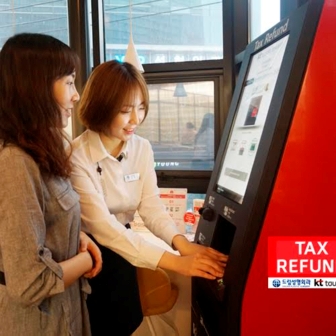 Due to the tax free policy of cosmetic surgeries for overseas patients that has been enforced from April 2016, Dream Plastic Surgery Clinic has installed an unmanned tax refund machine inside its building.
The Ministry of Health and Welfare has been imposing the tax refund policy of cosmetic surgeries for foreign patients from April 2016 to activate the attraction of tourists. It is a policy that refunds 10% of the tax payed by overseas patients for cosmetic surgeries or dermatological procedures done in Korean clinics.
Foreign tourists whose length of stay is less than 6 months, and overseas Koreans whose length of stay is less than 3 months are qualified for it, but receipts that has expired over 65 days, or that has already been registered under a different passport are not refundable.
In tandem with this policy, installations of unmanned tax refund machines are increasing. If the clinic provides a receipt to the overseas patient, the patient can conveniently and rapidly get the tax refund from the machine without having to wait long hours at the immigration desk.
When using this refund machine, one just need to scan the receipt, press the 'accept' button, and insert an overseas issued Visa, JCB, or Master card. Apart cosmetic surgeries, tax refund for shopping are also available, and when visiting the customs after progressing the refund, a CASH PAD stamp and an emission confirm of the customs director is needed (for refund amount over 75,000KRW). The emission confirm is required to lift the deposit, but in case of cosmetic surgeries, this can be skipped.
This policy of tax refund for cosmetic surgeries is imposed for 1 year until the 31st of March, 2017, and including Dream Clinic, unmanned tax refund machines have been installed at the Lotte Department head office, the Lotte Department Hongdae store, and the Aritaum center store in Myeongdong.